Search
Jose Luis Urquieta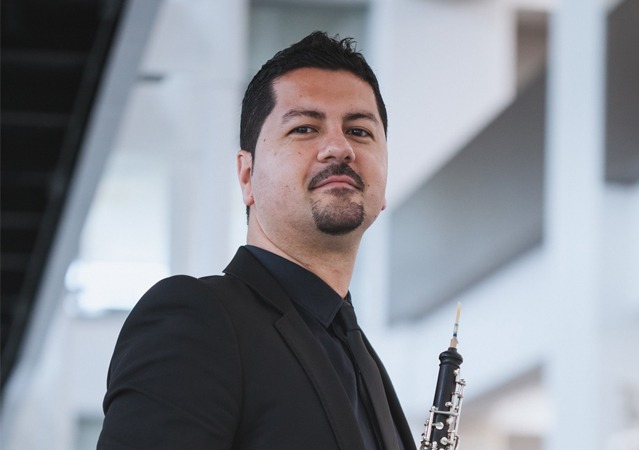 Oboe soloist with the La Serena Symphony Orquestra
Known as one of the most active artists of his generation, his presentation in a variety of formats has taken him on concert tours through Europe, Africa, Oceania, Asia, North, Central and South America.
Born in La Serena, Chile, he began his studies under the guidance of his father, Jose Urquieta Varela, in the Experimental Music School," Jorge Pena Hen". Afterwards he studied with Daniel Vidal, Jorge Postel and Rodrigo Herrera at the Catholic University of Chile.
Moving to Europe his education continues beginning in Montbeliard, France, where he studied with Christian Schmitt, continuing his superior studies with Thomas Indermuler and Pilar Fontalba at the Superior Conservatory of Music of Baleares Islands, Spain, being awarded first place in the chamber music competition "Arte Jove" and graduating with honors, obtaining the award "Extraordinary End of Studies Prize".
In Germany studies continue at the Musikhochschule of Karlsruhe, realizing post graduate studies in oboe under the guidance of Thomas Indermuhle, chamber music with Krystian Nyquist and baroque oboe with Susanne Regel. He has participated as an invited soloist with the Nacional Symphony Orchestra of Cuba, the Nacional Symphony Orchestra of Ecuador, the Symphonic Orchestra of Loja, (Ecuador), the Nacional Symphony Orchestra of Guatemala, the Symphony Orchestra of the Nacional Congress of Paraguay, the Philharmonic Orchestra of Sonora (Mexico),the Classical Orchestra of the Region of Maule (Chile), and the Chilean Chamber Orchestra.
Committed to and fascinated with the music of his times, he has done research, commissioned works, and is interpreting and spreading the works of diverse Chilean and Latin-American composers, the most outstanding being his collaboration with composers Guillermo Rifo, Gabriel Brncic and Valeria Valle, with whose composition for Oboe, "Han Solo", he was nominated for the award "Pulsar 2015″.He has also collaborated with Diego Sanchez Haase from Paraguay, Claudio Alsuyet from Argentina and Sofia Scheps, with whose work,"Orbitas" for solo Oboe, he is awarded Second National Prize in Music by the Education and Culture Ministry of Uruguay.
He participated on the CD "Cantos Transversales» (Transversal Songs), of the Chilean composer Esteban Correa, interpreting "Exordio" for solo Oboe.
During this year he will be collaborating with the Paraguayan composer Diego Sanchez Haase, interpreting "Pitogue, Leyenda Guarani para Oboe"(Pitogue, A Guarani Legend for Oboe) which will be published in a discographic production. He will also present the CD of his new project "Nuevos Aires Chilenos para Oboe"(New Chilean Airs for Oboe), consisting of 12 works dedicated to and premiered by him.
The Chilean Academia of Bellas Artes awarded him the "Domingo Santa Cruz Prize 2017" for his rigorous work in investigation and diffusion.
Mr. Urquieta is a Rigoutat Artist, the prestigious French oboe company. He is also oboe soloist with the La Serena Symphony Orquestra.
Jose Luis Urquieta has the pleasure of playing on a Rigoutat Model "J" Oboe.
Instruments
J

Retour en Haut