Search
Timothée Wurth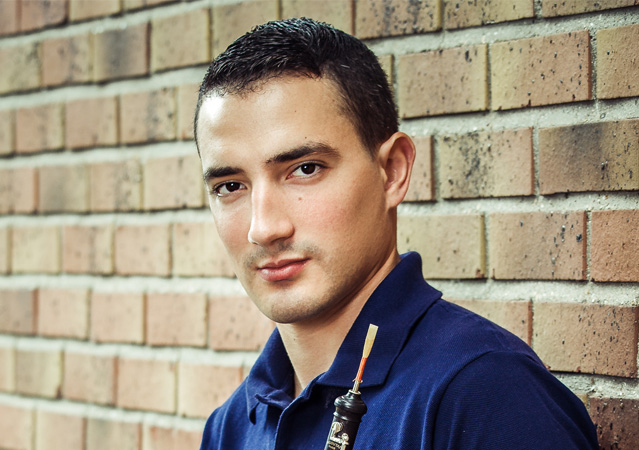 Member of the Republican Guard Music wind quintet
Born in Colmar, in 1992, Timothée Wurth studied in the class of Daniel Broggia. He obtained his D.E.M (Diploma of Musical Studies) in oboe and chamber music unanimously, and with the congratulations of the jury at the age of 16.
After obtaining his general baccalaureate in economic and social sciences in June 2010. He improved his skills with Christian Schmitt to obtain his national diploma of concertist with the congratulations of the jury, as well as the first prize of the French musical competition of the Lions Club. Finalist in the Weingarten International Competition, he performed as solo oboe at the Régis Pasquier Academy during the summer sessions of 2010 and 2011.
In September 2011, he joined the oboe class of Nora Cismondi at the Conservatoire de musique de Paris (CRR) in order to obtain his advanced diploma, then benefits advice from eminent Oboists such as Maurice Bourgue, Jacques Tys, David Walter, as well as Frédéric Tardy.
In 2013, at the age of 21, he entered the Music of the Republican Guard as a solo oboe and became the youngest musician of this prestigious formation. He then performed in numerous concert halls all over the world.
In 2014, he took part in the recording of a record with the Republican Guard, then was asked to play as a soloist at Victoria Hall in Geneva under the direction of Lieutenant- Colonel Antoine Langagne. He was also asked to perform at the "Colmar Fête le Printemps" Festival under the direction of Marc Soustrot.
Timothée has created several pieces composed especially for him and has been a member of the Republican Guard Wind Quintet since 2016.
Timothée Wurth has been trusting Rigoutat since 1999.
Instruments
J

Retour en Haut