Search
Hernán Apaolaza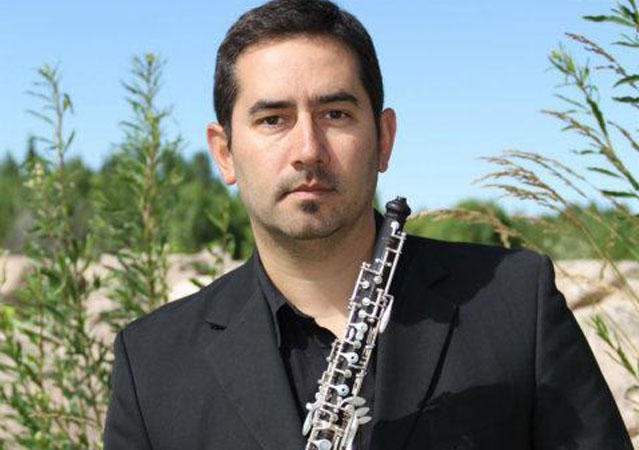 Professor of Oboe at the Superior School of Music of Neuquén & member of Ensamble Estación Patagonia
He was born in Buenos Aires. He began his studies at the Provincial Conservatory of Music "Julián Aguirre", and continued with the maestros Rubén Albornoz, Néstor Garrote and Jorge Pinzón.
He participated in masterclasses: Nancy A. King, Alex Klein, David Walter, Peter Apps, Thomas Indermühle, Carmel Dudú, Lucas Macías Navarro.
He performs studies in Europe with David Seghezzo, Jaime González and Juan Marí Ruiz.
On the orchestral level, he served as the first oboe of the National Radio Youth Orchestra, Lib Youth Symphony Orchestra and of the San Martín and Academic Orchestra of the Teatro Colón. In 2010 he won the position of first oboe in the Neuquén Symphony Orchestra and in 2016 in the Rio Negro Symphony Orchestra as lead soloist.
He participated in multipe orchestras such as the Symphony Orchestra of the Curitiba Music Festival (Brazil), the Sinfonía Baires Orchestra, the Avellaneda Municipal Orchestra, the San Juan Symphony Orchestra, the Buenos Aires Lyric Orchestra, the Mar del Plata Symphony Orchestra and the Rio Negro Philharmonic Orchestra.
He has performed as a soloist with the Symphony Orchestra of Neuquén, the Río Negro Philharmonic Orchestra, the Academic Orchestra of the Colón Theater, and the Chamber Orchestra of the National Congress.
In 2015, he was appointed oboe professor at the University Institute for the Arts (IUPA) in the city of General Roca; and assumes the position of Professor of Oboe for the Superior School of Music of Neuquén (ESMN) from the year 2019.
He is also a member of Ensamble Estación Patagonia, whose mission is to disseminate the repertoire of Argentine composer Astor Piazzolla, with which they will perform at the IDRS in Tampa 2019.
Instruments
J

Retour en Haut