Search
Spyros Kontos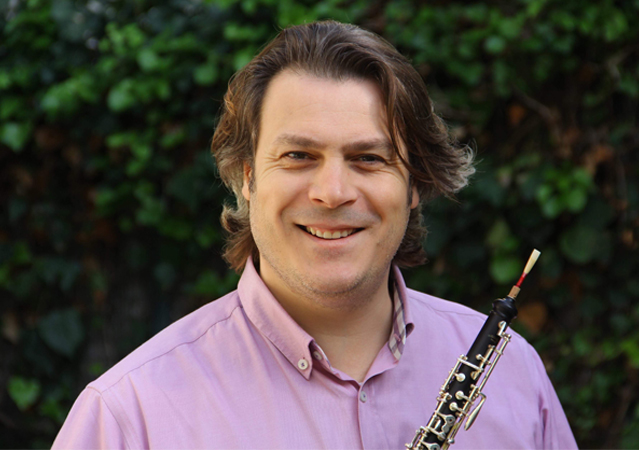 Principal oboist of the National Symphony Orchestra of the Greek Radio (ERT)
He was born in Corfu in 1974. He studied oboe in Athens with Yannis Papayannis, in Karlsruhe at the Hochschule fur Musik with Prof. Thomas Indermühle and in Geneva at the Haute École de Musique with Prof. Maurice Bourgue.
Since 1997 he is principal oboist of the National Symphony Orchestra of the Greek Radio (ERT) and has collaborated with various other orchestras in Greece and abroad. His activities include many recitals and chamber music concerts, appearances as soloist and also Radio/TV recordings in most European countries and USA. He has a research interest on the works of the Greek literature for Oboe, while many outstanding composers have written new oboe music for him.
He is a devoted pedagogue; since 2012 as assistant of Prof. Thomas Indermühle at Staatliche Hochschule für Musik in Karlsruhe and since 2006 at the International Oboe Course of Corfu. Since 2002 he is responsible for the oboe class (in bachelor and master's degrees) at the Music Department of the Ionian University in Corfu and also at the conservatory of the Athenaeum Cultural Centre in Athens. He has given many master-classes at the Athens Conservatoire, the MOUSA youth orchestra at Megaron of Thessaloniki, the youth orchestra of Cyprus, the Louisiana University (LSU) in the USA, the Elaine Kaufmann Centre in New York and other institutions.
His discography includes exclusively works by Greek composers and is available at DNA Label, Centaur, Irida, Rekem and Universal. His album Metamorphosis has been awarded by the Union of Greek Critics and acclaimed by international magazines.
Instruments
J

Retour en Haut