Búsqueda
Heinz Holliger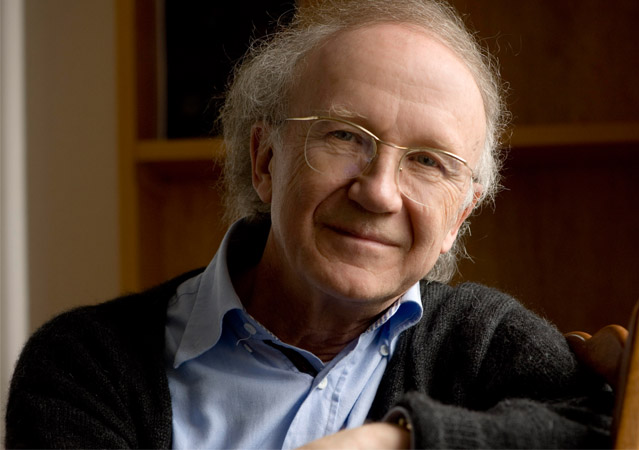 International Soloist
Heinz Holliger is among the most versatile and most extraordinary musical personalities of our time.
After taking first prizes in the international competitions in Geneva and Munich, Mr. Holliger began an incomparable international career that has taken him to the great musical centres on five continents. Exploring both composition and performance, he has extended the technical possibilities of his instrument while deeply committing himself to contemporary music.  Some of the most important composers of the present day have dedicated works to Mr. Holliger, who also advocates certain lesser-known works and composers.
Heinz Holliger's many honours and awards include the Composer's Prize from the Swiss Musician's Association, the City of Copenhagen's Léonie Sonning Prize, the Art Prize of the City of Basel, the Ernst von Siemens Music Prize, the City of Frankfurt's Music Prize, the Abbiati Prize at the Venice Biennale, an honorary doctorate from the University of Zürich, a Zürich Festival Prize and the Rheingau Music Prize, as well as awards for recordings – the Diapason d'Or, the Midem Classical Award, the Edison Award, the Grand Prix du Disque, and others. In 2015, he was awarded the Grand Prix Suisse de Musique. In 2016, he was elected Foreign Honorary Member of the American Academy of Arts and Sciences.
As a conductor, Heinz Holliger has worked with leading orchestras and ensembles worldwide, including the Berlin Philharmonic, Cleveland Orchestra, Concertgebouw Orchestra, London Philharmonia Orchestra, Vienna Symphony, Vienna Philharmonic, Bavarian Radio Symphony Orchestra, SWR Symphony Orchestras, WDR Symphony Orchestra of Cologne, Frankfurt hr Symphony Orchestra, Zürich Tonhalle Orchestra, Orchestre de la Suisse Romande, Lausanne Chamber Orchestra, Budapest Festival Orchestra, Lyon National Orchestra, Strasbourg Philharmonic, Mahler Chamber Orchestra and Chamber Orchestra of Europe.
Heinz Holliger is in high demand as a composer. His works are published exclusively by Schott Music International. His opera on Robert Walser's "Schneewittchen" at the Zürich Opera received great international attention. Other major works are the Scardanelli Cycle and the Violin Concerto. Among the composer's latest works are nicht Ichts – nicht Nichts for vocal ensemble a cappella (2010), Lunea, 23 sentences by Nikolaus Lenau for baritone and ensemble (2010-13), Janus, double concerto for violin, viola and small orchestra (2011/12), hölle himmel for vocal ensemble a cappella  (2011/12), Increschantüm for soprano and string quartet (2014), Dämmerlicht for soprano and orchestra (2015) and Reliquien for soprano, clarinet and piano (2018). Lunea (2017), Holliger's second opera, was premiered at the Zurich Opera in March 2018 to great acclaim.
Heinz Holliger's numerous recordings as an oboist, conductor, and composer are available on Teldec, Philips, ECM, SWR/Hänssler and Audite. As a conductor, he has recorded a series of five volumes featuring the works of Charles Koechlin for the SWR/Hänssler label. Of these, the recording with soprano Juliane Banse was awarded the Midem Classical 2006 Award and the 2006 Prize from Echo Classics. The recording of "Les Bandar-Log"/"Offrande musicale sur le nom de BACH" was the only symphonic recording to be awarded the highly coveted Grand Prix du Disque in 2009. With the orchestra of the Musikkollegium Winterthur, Heinz Holliger recorded Mendelssohn's symphonies no 3 and 4 and with the WDR-Sinfonieorchester Cologne, the complete symphonic works by Robert Schumann, including symphonies, overtures and concerti, of which five volumes have been released to date. Schumann's choral works are to follow. Most recently, Heinz Holliger recorded the complete Schubert symphonies with the Basel Chamber Orchestra.
Heinz Holliger has been trusting Rigoutat since 1954.
Instruments
Classique

Retour en Haut