検索
Briana Leaman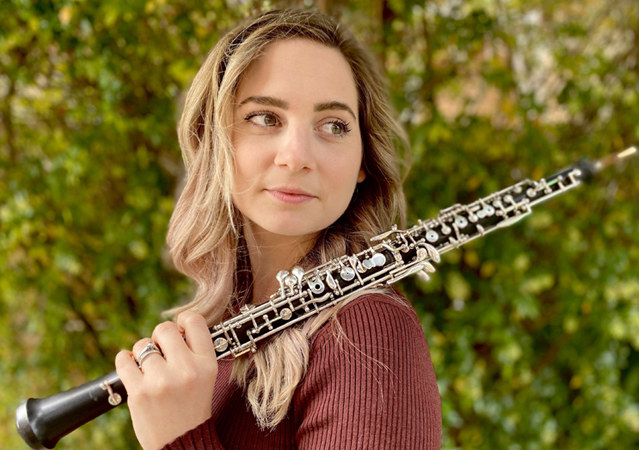 Freelance Oboist and Oboe Teacher at Loreto Mandeville Hall
As an international artist, oboist Briana Leaman has studied, performed, and taught throughout North America, Europe, Asia, and Australia.
A native of South Carolina, Briana completed her Bachelor's of Music Performance at the University of South Carolina with Dr. Rebecca Nagel in 2013. Upon finishing her Master's of Music Performance with Sébastien Giot and Christian Schmitt at the Haute École des Arts du Rhin in Strasbourg, France in 2016, Briana relocated to Melbourne, Australia where she currently resides with her husband, saxophonist and conductor Joseph Lallo, and their two groodles Mayla and Bindi.
Since moving to Melbourne, Briana has established herself as a sought-after teacher and performer. She currently teaches oboe at Loreto Mandeville Hall and serves as the Victorian State Representative for the Australasian Double Reed Society. Briana has given masterclasses at the Melbourne Conservatorium of Music, the Elder Conservatorium, Vanderbilt University, and the University of South Carolina. She is currently pursuing a PhD in Music Performance at the University of Melbourne for which she is a Graduate Research Scholarship recipient. She also works with the Melbourne Conservatorium's oboe studio and chamber music studio as part of the prestigious Academic Assistantship program.
Since the success of her first professional audition at the age of 21, Briana has performed with many orchestras in the U.S., France, and Australia including the Greenville and Charleston Symphony Orchestras, the Orchestre Philharmonique de Strasbourg, the Opéra National du Rhin, the Australian Philharmonic Orchestra, the Royal Melbourne Philharmonic, and Orchestra Victoria. During her time in France, Briana also worked in collaboration with renowned conductor Theodor Guschlbauer for solo and chamber performances at the Prix de l'Europe awards and for diplomatic events associated with the European Parliament. In addition to her orchestral playing, Briana performed in a number of shows at Her Majesty's Theatre for the Broadway production of Disney's Aladdin in 2017 and in the world premiere of the musical The Dressmaker in 2018.
​Briana is also an active chamber musician and has given performances alongside Joseph Lallo as Duo Obax in the United States, Singapore, Adelaide, and Melbourne. Many works have been written for and commissioned by them in this capacity including an arrangement of Ross Edwards' Love Duet from his oboe concerto Bird Spirit Dreaming, and pieces by Nicholas Russioniello, and Robert Lemay. A work by Luke Severn written for Duo Obax, And other lines, will be recorded by the Australian Broadcasting Corporation for publication on their recording label in February 2021.
Briana Leaman has been trusting Rigoutat since 2013.
Instruments
J

Professional

Retour en Haut