検索
José Luis Urquieta Plaza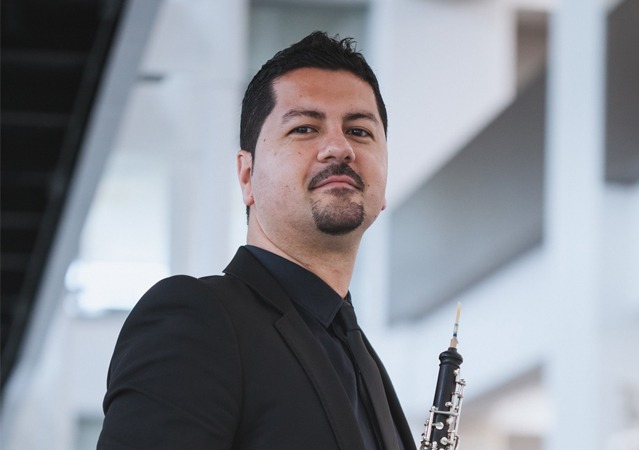 Oboe Soloist with La Serena Symphony Orquestra
Recognized as one of the most prolific artists of his generation, José Luis Urquieta is a constant presence in oboe and classical music festivals. His impetus for playing in different formats has led him to perform concerts throughout Europe, Africa, Oceania, Asia, North, Central and South America.
He was born in La Serena, Chile, where he began his studies in the oboe studio of his father José Urquieta Varela at the Experimental School of Music "Jorge Peña Hen". Later teachers include Daniel Vidal, Jorge Postel and Rodrigo Herrera at the Pontificia Universidad Católica de Chile.
He studied in Europe to continue his training, beginning in Montbéliard, France, where he studied with Maestro Christian Schmitt. He obtained a Master's Degree through studies with Thomas Indermühle and Pilar Fontalba at the Superior Conservatory of Music of the Balearic Islands in Spain, where he won first place in the "Art Jove" chamber music contest and graduated with Honors, obtaining the "Extraordinary Graduate Prize".
He continued his training in Germany where he studied at the Musikhochschule in Karlsruhe, completing his postgraduate studies in Oboe Performance with Professor Thomas Indermühle, in chamber music with KrystianNyquist, and in Baroque oboe studies with Susanne Regel.
Urquieta has performed as a guest soloist with the National Symphony Orchestra of Cuba, the National Symphony Orchestra of Ecuador, the Symphony Orchestra of Loja (Ecuador), the National Symphony Orchestra of Guatemala, the Symphony Orchestra of the National Congress of Paraguay, the Philharmonic Orchestra of Sonora (Mexico), the Classical Orchestra of the Regional Theater of Maule, and the Chamber Orchestra of Chile.
Committed to and fascinated by the contemporary music of his time, Urquieta carries out deep research in this field of music, commissioning, performing and championing works by various Chilean and Latin American composers.
His collaborations with maestros Fernando García, Gabriel Brncic and Valeria Valle are particular stand outs, with the latter receiving a nomination for the "Pulsar 2015" award with the work "Han Solo" for oboe. Collaborations with Diego Sánchez Haase from Paraguay, Claudio Alsuyet from Argentina, and Sofia Scheps resulted in being awarded the second National Music Award, granted by the Ministry of Education and Culture of Uruguay for the work "Órbitas" for solo oboe.
Urquieta can be heard in the album "Cantos Transversales" by composer Esteban Correa, performing "Exordio" for solo oboe. He collaborated with the national award winning Paraguayan composer Diego Sánchez Haase, performing "Pitogüé, Guaraní Legend for Oboe", published in a record production. Solo highlights include the series "New Chilean Airs for Oboe", consisting of a double album with 12 works for solo oboe. Another production with 6 works for solo oboe and ensembles during this year will result in a release of a new double CD with works for oboe and string orchestra. For his rigorous research and performance work, he was awarded the "Domingo Santa Cruz Award" by the Chilean Academy of Fine Arts.
Mr. Urquieta is a "Rigoutat Artist" performer, playing on instruments by the prestigious Rigoutat brand of French oboes since 2010. He is the oboe soloist of the University of La Serena Symphony Orchestra. José Luis Urquieta has the pleasure of concertizing on a Rigoutat Model "J" oboe.
Instruments
J

Retour en Haut